Unintentionally formatting a hard disk with crucial data still on it is a frequent cause of data loss in Windows or macOS. You shouldn't worry, however, since you can still retrieve this information and, in effect, unformat the hard disk if you move quickly.
You'll need specialized format recovery software to get it back into usable condition. Rapidity is a plus. In this post, we'll explain how to recover files from a formatted hard disk in Windows and macOS and restore them to their original locations.
Can A Hard Drive Be Unformatted?
Unformatting is defined here as regaining access to data on a hard disk that has previously been formatted. Therefore, the answer is "yes," since an hard drive or external device may be unformatted. However, two main elements will determine how likely it is that you will be able to recover data and information from a formatted hard disk.
How The Hard Drive Was Formatted:
Data recovery from a hard disk drive is feasible and straightforward if the device is formatted using Windows Explorer with the Quick Format option selected. However, if you choose to conduct a Full Format instead of a Quick Format, all your data will be removed forever.
To avoid wasting valuable time and money needlessly, it is crucial to know whether you formatted your disk using a Quick Format or a Full Format (including erasure).
Duration Since Last Formatting:
The quantity of data that may be retrieved decreases dramatically if time has passed between formatting the hard disk and installing a new OS or copying many files. It isn't easy to retrieve erased data from a disk after fresh information has been written. Consequently, after discovering the data loss, taking action as soon as possible is crucial.
Donemax Data Recovery: A Step-By-Step Guide to Unformat Hard Drive
After formatting your hard disk in Windows or Mac, using reputable unformat software like Donemax Data Recovery will help you recover all of your lost files. More than a thousand different file types, including movies, images, audio files, files, emails, and more, may be restored with this free recovery program.
Donemax Data Recovery
Unformat hard drive and get all lost files back.
Recover lost data from HDD, SSD, memory card, USB drive, etc.
Users can retrieve deleted/formatted or lost files from a wide variety of storage devices, including internal hard drives, solid-state drives, external hard drives, memory cards, USB flash drives, digital cameras, and more, all with the help of this program.
To begin using the program, download and run the setup file and proceed with the instructions provided.
Step 1: To begin, open Donemax Data Recovery on your computer. Select the formatted hard disk. Connect any external disks or flash drives to your computer that you want to recover data from before beginning the scanning procedure.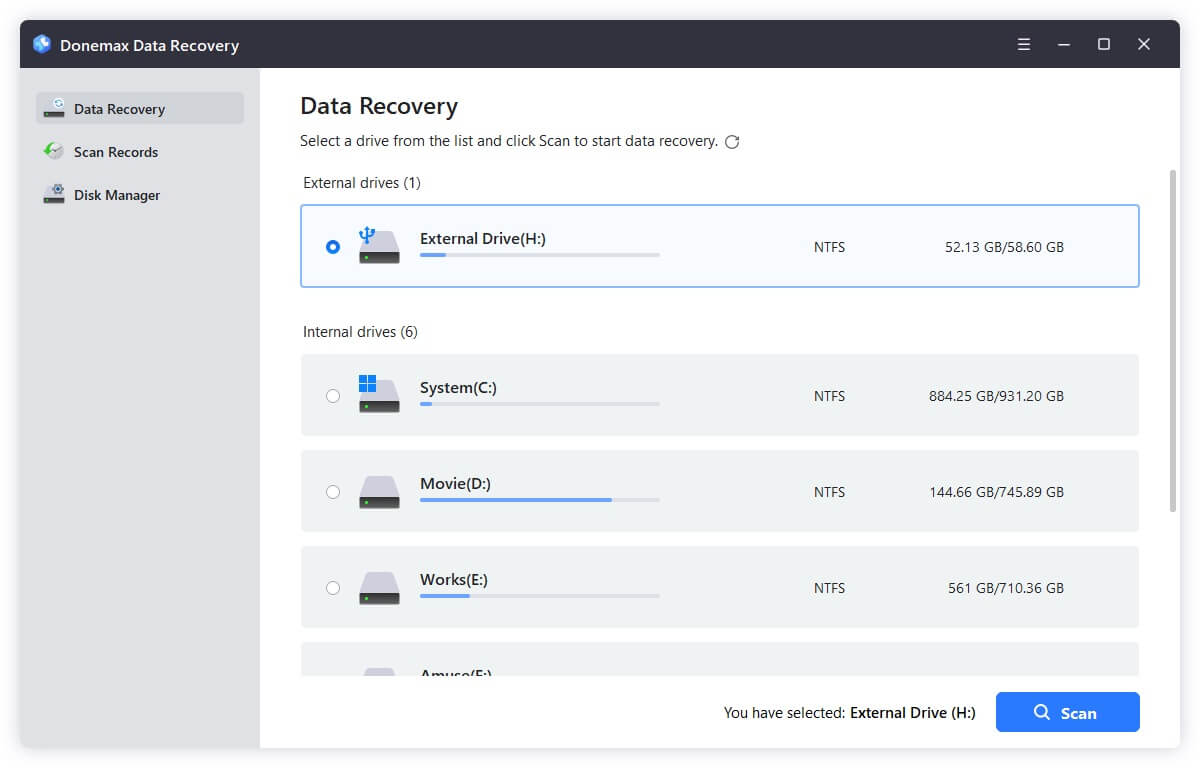 Step 2: Click on Scan button. Donemax Data Recovery is able to deeply scan the formatted or erased hard drive, then find all lost files.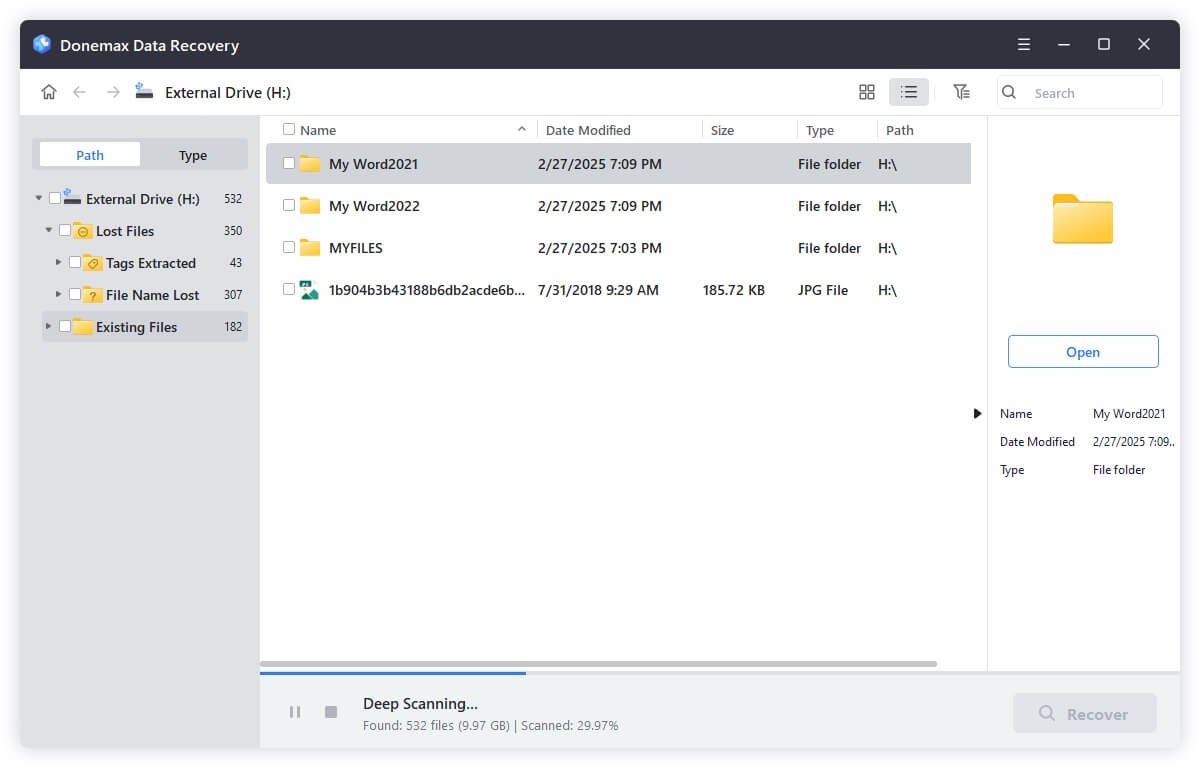 Step 3: Your screen will display a new window. Select the appropriate file format from the left pane, then double-check the information on the right. After locating the desired files, select them and choose "Recover" to save them to your hard drive.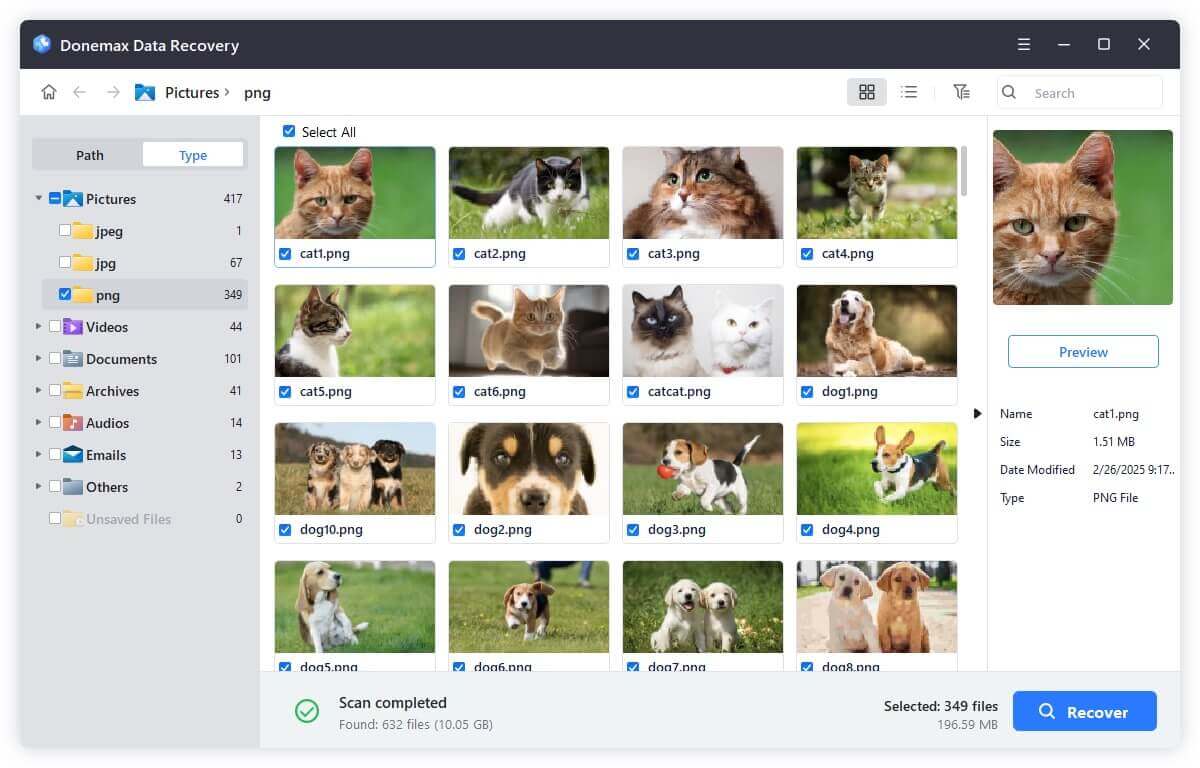 All the data has been restored; you may now access the files.
Unformatting a hard drive becomes simple if you have Donemax Data Recovery installed on your computer. Whether the hard drive is formatted using quick format method or high-level format level, the lost files can be recovered by this powerful data recovery software. To improve the data recovery result:
Don't save new files to the formatted hard drive before you get all lost files back.
As soon as possible to use Donemax Data Recovery to recover your formatted data.
Make a backup before you format a hard drive.
FAQs about unformatting a hard drive
1. Is it possible to recover data from a formatted SSD.
Yes, Donemax Data Recovery offers advanced scan mode so that it can scan the formatted SSD and find the lost files.
2. It tells my device is not formatted and need to be formatted, what should to do?
Don't do anything, just run Donemax Data Recovery to help you export data from the device to your computer. If you have formatted the device, you also can use Donemax Data Recovery to scan it and get lost files back.
3. Mac hard drive has been erased by Disk Utility, is the data lost forever?
No, the data is not lost forever. Run Donemax Data Recovery to scan the erased hard drive and then it would find most of lost files.
4. How to unformat a hard drive which is formatted by Full Format.
Run Donemax Data Recovery to scan the full formatted hard drive. It can help you find all lost files including formatted files and deleted files.