SSD provides a faster performance; thus, many people want to change the system drive (which is the HDD)to a new SSD. But it would be time-consuming to replace the system drive that you need to reinstall almost everything from the operating system to the applications.
All contents can be copied from the old HDD disk to the new SDD disk through professional disk cloning software, saving time. System files, settings, programs, and data are seamlessly migrated to SDD.
Free SSD Cloning Software - Clonezilla
If you want a free SSD cloning utility, Clonezilla might be your best choice. It is open-source software that is free for disk cloning.
Clonezilla is a partition and disk imaging/cloning program similar to True Image® or Norton Ghost®. It helps you do system deployment, bare metal backup, and recovery. But it is not suitable for everyone. All steps must be done via commands and options. If you are not an IT pro, you almost can not do the SSD cloning with the Clonezilla.
Professional SSD Cloning Software - DMclone
Whether you want to migrate an HDD to an SSD or an old SSD to a new SSD, you want to save time by using a fast and easy way to check that the new SSD works appropriately. DMclone is a professional disk cloning software that can complete all these operations for you. It is easy to use and keeps data integrity during the cloning process, saving you time and effort than reinstalling the system and all applications.
Paid but powerful and full-featured SSD cloning software
DMclone, developed for windows 10, 8, and 7, is an SSD cloning utility ideal for transferring data from one disk to another. It has many professional features, such as the SSD sector alignment option, which can improve the performance and prolong the service life of SSDs.
With an easy-to-use interface, you can efficiently complete the cloning operation through the intuitive GUI of DMclone professional edition.
You can migrate HDDs to smaller SSDs or clone SSDs to larger SSDs.
There are two cloning modes. Allows cloning of the entire hard disk (including unused parts) or used partition space.
Suppose the source disk and the target disk have different partition structures. In that case, you can still clone the disk with DMclone without converting the disk partition structure in advance because it allows you to copy the MBR disk to the GPT disk (or vice versa), but you want to confirm that the motherboard supports the corresponding boot mode.
The cloning process can run in the background, so you can continue to use the computer while cloning.
Reminder:
If you want to clone each sector on the old hard drive to SSD, check clone by sector to sector.
If you upgrade SSDs to larger SSDs, you should click Edit partitions and add unallocated space to all partitions to avoid unused space on larger disks after the cloning process.
If you only want to transfer the OS and C disk applications to SSD instead of the whole disk, you can use the system cloning function.
If you have cloned your system HDD to another hard disk in Windows 10, check to change the boot order or replace the old hard disk to boot from the cloned drive.
Detailed steps to clone SSD:
Step 1: Select clone source and clone target.
Select a disk or partition as the clone source in the pop-up clone window. The target can be an empty disk or unallocated space as the clone target. Click next.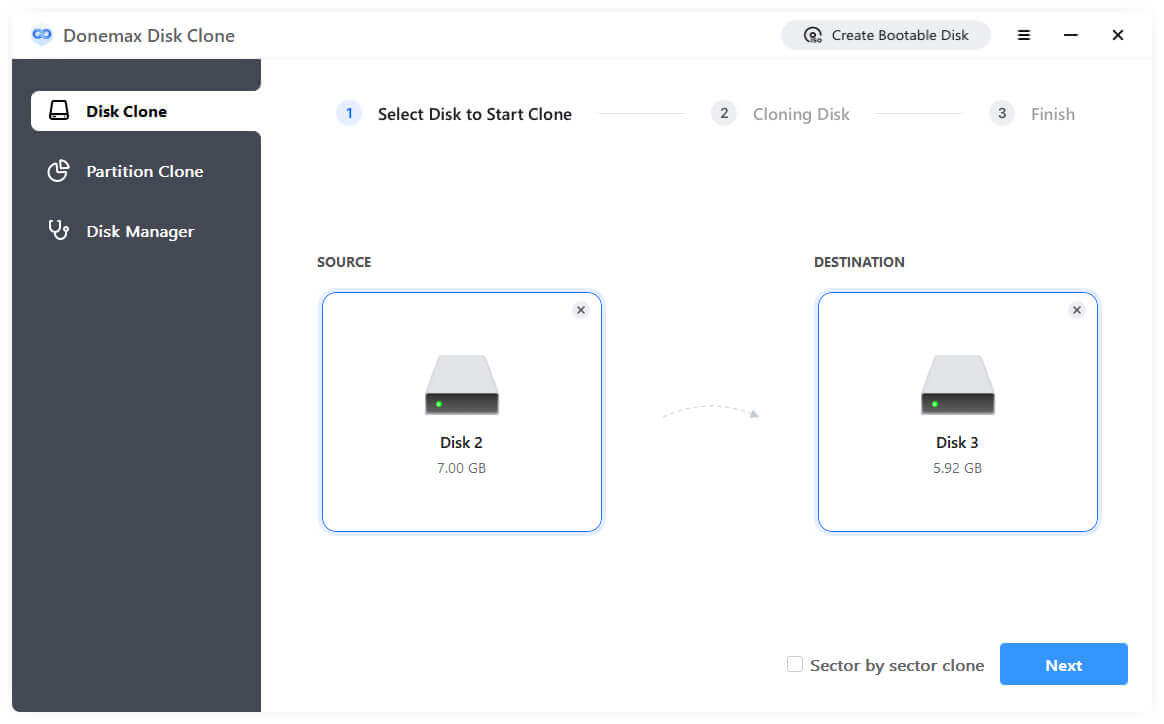 Step 2: Edit the destination disk layout.
To edit the cloned target disk layout, you can select auto fit disk layout, clone as the source disk, or manually edit disk layout.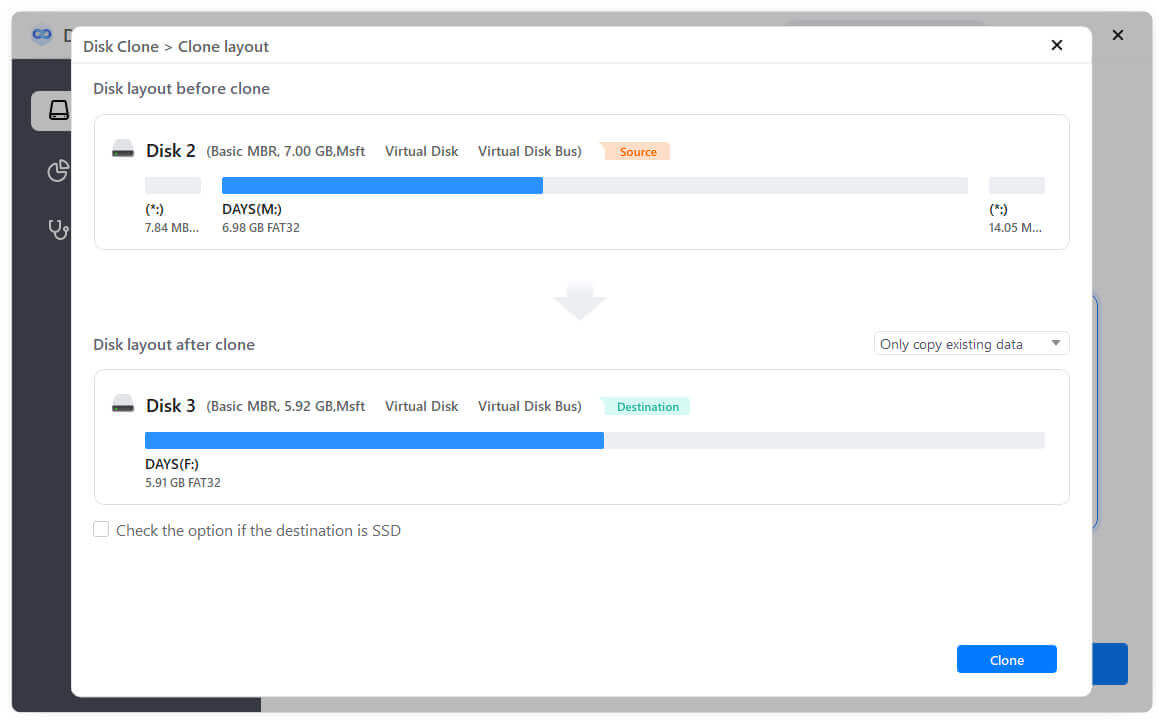 Step 3: Perform cloning.
After confirmation, click "execute" to start the cloning process.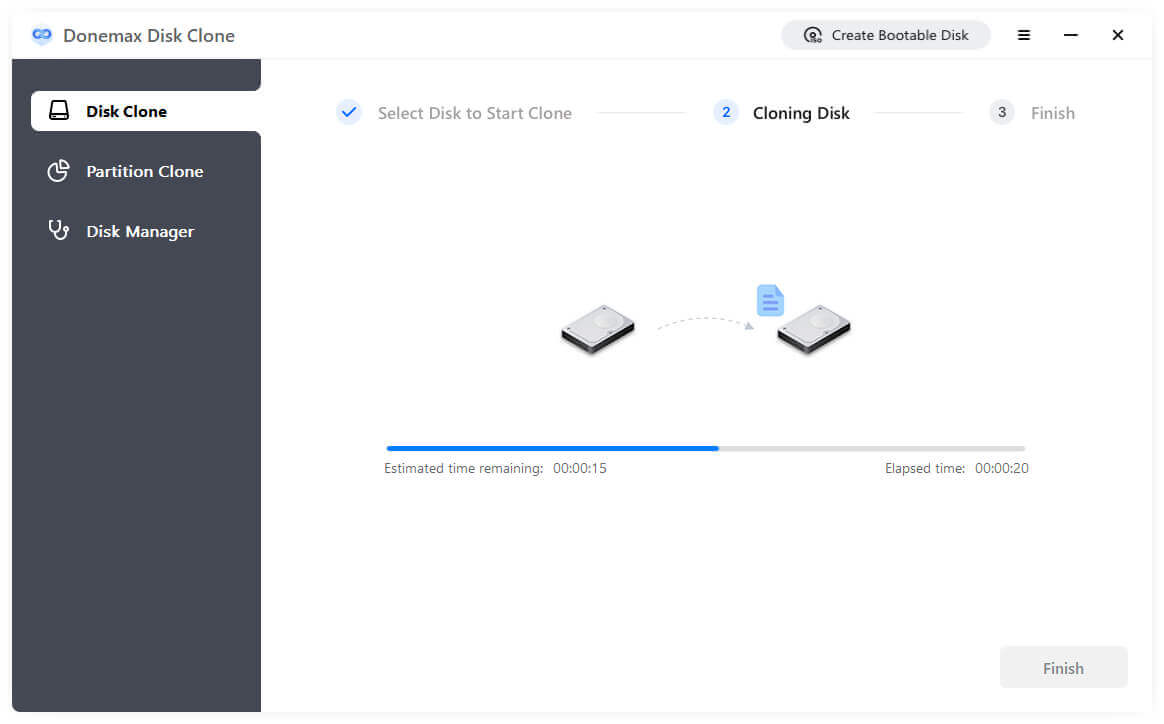 How Do I Boot from A Cloned SSD?
Cloning is not a target. To boot from the cloned disk, you need additional operations: change the boot order in the BIOS or directly replace the old drive with an SSD.
To change the startup sequence:
Restart the PC, and then press the "F2" key (or "del," "F12") to enter the BIOS.
On the boot tab, select SSD as the boot device.
Save your changes and exit.
Turn off the PC and remove all external devices to replace the hard drive directly with an SSD. In practice, if it is a laptop, you also need to dismantle it. I suggest you take pictures in advance. Generally, most laptop rigid disk boxes are easy to disassemble and install.